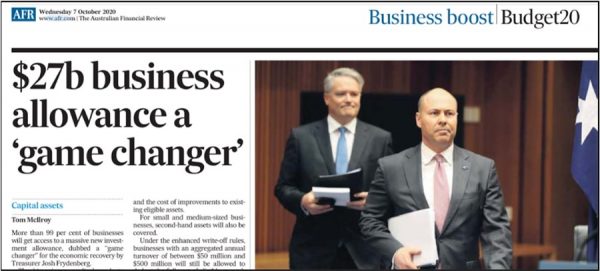 The 2020 COVID-19 record-busting Federal expenditure budget can help businesses fund customer and digital experience improvements in two ways:
First, organisations with up to $5 billion in annual turnover can build various new software applications eg, a new website, mobile application etc and, providing it is not considered an excluded asset by the Australian Tax Office– the full amount can be used to offset otherwise payable tax.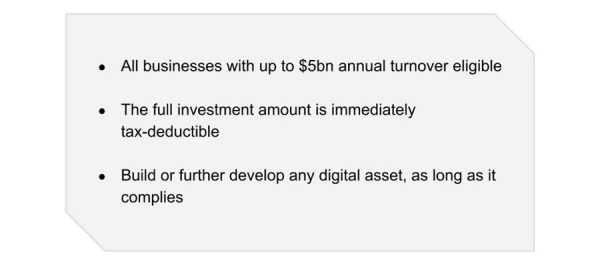 Previously, if you spent $100,000 on an eligible asset you may have depreciated it at $20,000 a year, offsetting payable tax by that amount each year. Now the full $100,000 can be immediately offset.
Second, if you had a profit last year, you can lose money this year and claim a loss against taxes you paid last year – this is called a Loss Carry Back.
This could be a great way to invest in improving your service design to surprise and delight your customers, attract new customers and achieve future savings and efficiencies.
Third, since July this year, small to medium businesses can borrow up to $1 million guaranteed by the Government to maintain and grow. Investing in your business means thriving, not just surviving.
Needless to say, Komosion would be happy to help you improve your business – with the help of the Commonwealth Government.
Digital business will lead economic recovery
Affordable Consulting and Application Development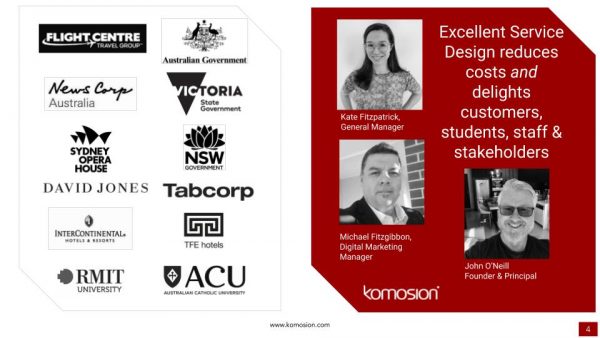 Last week, in the context of the dramatic acceleration of e-commerce adoption in Australia, we welcomed e-commerce expert consultant Michael Fitzgibbon, a 20-year veteran across multiple industries, to assist clients with specific e-commerce needs.
We promoted our well-priced, easy-to-set-up and easy-to-use state of the art customised WordPress + WooCommerce platform, Kanvas, which is now available.
We have also been helping our clients create efficiencies and innovate around their customers through our affordable consulting services in 2020 including TAFEs, universities, utilities, hard-hit tourism and travel businesses and not-for-profit organisations.
Contact our General Manager Kate Fitzpatrick or founder John O'Neill to discuss how any of our products and services may help you better compete in this post-COVID-19 world.